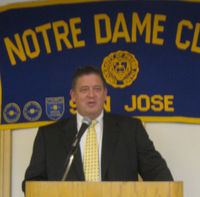 From The Washington Post (reg. req.):
Despite the potential risks, Notre Dame football coach Charlie Weis decided to have gastric bypass surgery in June 2002 because he said he was afraid he would "drop dead" if he didn't lose weight.

Weis suffered life-threatening complications and nearly died after the surgery. Yesterday, he testified in his medical malpractice case against two surgeons that he has struggled with his weight all his life.

…

Weis claims in his suit that Massachusetts General Hospital physicians Charles Ferguson and Richard Hodin acted negligently by failing to recognize life-threatening internal bleeding and infection two days after the surgery.

Defense attorneys have said the doctors cared for Weis properly and that he experienced one of the known complications of the surgery.