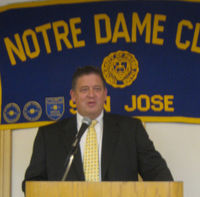 Notre Dame football coach Charlie Weis was mid-trial for his medical malpractice action when a juror collapsed, and the two defendant doctors rushed in to assist. I posted about the trial the other day.
The story is here. Not surprisingly, defense counsel attempted to argue the case should go on despite several jurors having seen the doctors minister to the fallen juror.
But in the eyes of the judiciary, I would have say that a mistrial is a no-brainer.
See also: Medical Malpractice — Litigating the Surgical Error Case