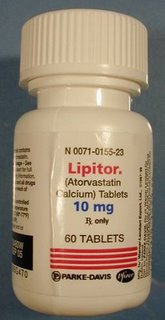 The counterfeit Lipitor investigation from 2003 is apparently still red hot (that is a fake bottle on the right, courtesy of the FDA). An estimated 200,000 bottles were counterfeited.
From the Kansas City Star yesterday:
More defendants were indicted Friday on charges of selling fake Lipitor, bringing to 24 the number charged locally since 2003 for allegedly participating in a wide-ranging counterfeit-drug distribution scheme.
A second superseding indictment handed up by a federal grand jury named six individuals, amending previous indictments by adding four defendants.

The six were allegedly involved in buying and selling prescription drugs in the secondary wholesale market — outfits that buy and sell drugs among themselves and sell drugs to hospitals, clinics, doctors and pharmacies.
The six are accused of selling counterfeit or illicitly imported Lipitor and other prescription drugs in the secondary market. Lipitor, a cholesterol-lowering drug made by Pfizer Inc., is the best-selling prescription drug in the world.
Readers of this space know it is a subject I have covered, and will continue to cover. You can read more about the problems of fake drugs at this link back to my firm's website.